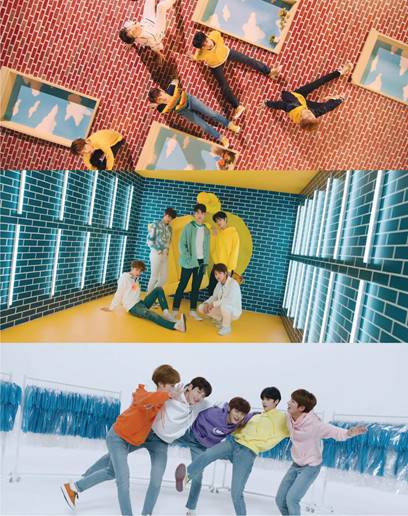 TOMORROW X TOGETHER, Big Hit Entertainment's newest addition since BTS, has already caught the world's attention as they first step into the music industry with their debut album 'The Dream Chapter: STAR'. Composed of five members, TOMORROW X TOGETHER's SOOBIN, YEONJUN, BEOMGYU, TAEHYUN, and HUENINGKAI, trendy sound and their high-energy performance style will position the group as 2019's next big global music rookies.
TOMORROW X TOGETHER delivers their story through 'The Dream Chapter: STAR' as they transition from childhood to youth, the boys have gathered together under ONE DREAM. 'The Dream Chapter' will unfold the stories of what they encountered as they grow and embark on this new journey.
The album's lead single 'CROWN', which showcases Big Hit Entertainment's signature energetic and bright choreography, is a trendy synth pop piece that illustrates the growing pains of the boys entering their adolescence with the novel image of a crown. Through its unique sound and lyrics, the song narrates how horns suddenly sprouts from the boys' heads. Although the changes surprise them, the boys' hearts flutter as they meet those who are different yet alike.
The 5-track album opens with 'Blue Orangeade,' a refreshing track about meeting your opposite is metaphorically expressed with complementary colors, then leads into the song, 'CROWN'. Third track 'Our Summer' is produced by The Futuristics, the magic behind world-leading artists such as Halsey, Selena Gomez and Camila Cabello. Followed by 'Cat & Dog', a song with cute layers of marimba melodies on top of trap beat highlighting mumble rap, the album closes out with a soft modern rock song, 'Nap of a star,' showcasing beautiful harmony on delicate strains of an electric guitar.
Pre-orders of the 'The Dream Chapter: STAR' already have surpassed 100,000 copies within three days in Korea alone. For more information on TOMORROW X TOGETHER, please visit: https://txt.ibighit.com/
THE DREAM CHAPTER: STAR TRACK LIST
1. Blue Orangeade
2. CROWN
3. Our Summer
4. Cat & Dog
5. Nap of a star
About TOMORROW X TOGETHER
TOMORROW X TOGETHER, read as 'tomorrow by together', has come together under one dream in hopes of building a new tomorrow. They are a bright and youthful boyband composed of five members, SOOBIN, YEONJUN, BEOMGYU, TAEHYUN, HUENINGKAI, where each member is different from one another, shining in their own way to create synergy.
About Big Hit Entertainment
Founded in February 2005 in South Korea by CEO and Producer Bang Si-Hyuk, Big Hit Entertainment's core business focuses on music production, artist management and publishing. Big Hit's business ventures incorporate and develop a range of content produced from top-notch artists' IP, including global boyband BTS. With its mission of 'Music & Artist for Healing', Big Hit strives to impart a positive influence through content while providing comfort and inspiration to music fans worldwide.